Apple Valley's Ray Wright explains how to
transform
your family recipe into a product for the masses
By VERONICA HILL
Staff Writer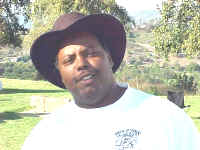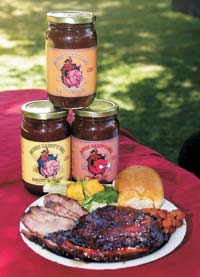 Richard Gillard / Staff Photographer

Ray Wright's bottled barbecue sauce comes in three flavors: Sizzlin' Hot, Sweet & Sassy and Old Fashioned, the latter for diabetics. It's now sold at the Farmer's Market in Victorville, Overland Meats in Apple Valley and Tom's Farms in Corona.
Many people know Ray Wright from his home-style Southern barbecues catered throughout the High Desert.
Now fans can bring his sweet and sassy sauces home.
"I've been trying to bottle my sauce for a good three years," said Wright, who owns Rodeo Daddy Barbecue and Catering Company in Apple Valley.
Wright's three sauces (Old Fashioned for Diabetics; Sweet and Sassy; Sizzling Hot ) and two dry rubs (Brisket Rub and Chicken and Fish Rub) are sold at Victor Valley College's Farmer's Market, Overland Meat Market in Apple Valley, Tom's Farms in Corona, and Charlie Brown Farms and Farmer's Mart in Littlerock.
"I'm in the process of getting it in Albertson's — with the help of the management," he said.
The process of transforming his closely guarded family recipe into a product for the masses wasn't easy, he says.
"You have to do everything in stages," said Wright.
"Set yourself goals. Be realistic. Once you reach one stage, then move on to the next stage."
Following are Wright's tips for transforming your favorite family recipe into a marketable product.
Develop your recipe
"Perfecting a recipe is a lot of hard work," said Wright, whose sauce is a mix of his tastes (sweet) and his parent's (vinegary). "You need to test it on everybody — your family, your friends and people you don't even know.
"One thing about friends is that they'll sometimes lie to you. Kids are your best critics."
Wright developed his barbecue sauce to have more texture than supermarket varieties.
"I personally love to see the spices because it seems to give it a much more attractive flavor," said Wright. "Most barbecue sauces are smooth, like ketchup. Mine has some texture."
Wright urges people to write their recipes down and mail them back to themselves in a self-addressed envelope, never opening it.
"It's a way of protecting yourself and your product," he says. "The dated U.S. Postmark, which is a registered mark, indicates when you created it."
Get your recipe tested
"The Health Department mandates that every product is tested in a state facility or through a state licensed company to determine that it is safe for public consumption," said Wright.
The Environmental Health Department on Civic Drive in Victorville offers a list of laboratories that will test your product, he said.
"They tested it, in my case, for pH balance and for any bacteria once it's opened," said Wright. "Sometimes sauces with a higher pH balance need more preservatives added. Fortunately, mine didn't need none of that because of the vinegar in my product."
Find a reputable processor
"You have to do your research," said Wright, "and find out what food processing companies are available to bottle and process your ingredients. Find out what kind of reputation they have with other vendors, and see who is getting the most work and the most calls."
Wright chose Triple H Food Processing Inc. in Riverside. His sauces are processed in Stone Cellar, the company's gourmet division.
"Sometimes bottling companies are in the Yellow Pages, sometimes not," said Wright.
"Another choice is to call some companies up and ask them who does their bottling.
"Select a reputable processor that will fit your budget, said Wright.
"Most companies have a minimum order of 100 cases, which can run from $1,000 to $3,000, depending on your ingredients and what is involved to produce it.
"It's important to use widely available ingredients, because it keeps costs down," said Wright.
Before releasing your recipe to the production company, be sure to sign a letter of confidentiality with the company, complete with signatures.
"The name of the game is to protect your product," said Wright. "Be sure to include that they can't go out of state and manufacture your product under a different name."
Wright says to always read every letter before signing. "If you want to be safe, go to a business attorney or paralegal and have them write a confidentiality letter of your own."
Once the letter of confidentiality is signed, the company converts your recipe from cups into pounds to make their first batch.
For quality control, Wright was instructed to prepare a batch at home, following the company's bottling and hot packing instructions.
"During our first production run, we tasted both versions and compared five bottles out of the first 100," said Wright. "This company hit my product on the mark. It tasted exactly how I prepared it at home."
Create your label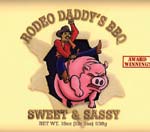 Rodeo Daddy's label
"The whole trick is to get your package seen because so many products get lost on the shelf," said Wright. "If a customer is going down a store aisle, you want something on your label to say 'Hello! Look at me, I'm here!'
"The reason I chose a pig to represent rodeo as opposed to a horse or a bull is because they are too common," said Wright. "I wanted a black man riding a bucking pig. Everybody loves that design!"
Wright chose Litho Sales Signature Press Inc. in Glendale.
"Most people should have an idea of what they want," said Wright. "You've got to ask yourself how you want the label to represent your product."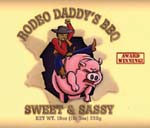 Company's first version
Wright wasn't happy with the company's first version.
"I looked like a black Chinaman. All I needed was a pigtail,"he said. " And the hat, to me, was not a cowboy hat. If I'm called Rodeo Daddy, I need to have a rodeo hat.
"I asked them to use my portrait as a base for the second sketch. When I got the second proof back, I told them to print!"
Find the nutritional value
"There are a lot of companies out there that do nutritional fact finding," said Wright, who used Energy Ent Nutritional Consulting Company in Calabasas. "The cost of your fact finding is between $375 to $1000, depending on the tests that they have to run."
Get a UPC code
Wright said bar codes are easily available via the Internet at www.barcode.com, or through the Uniform Code Council in Columbus, Ohio.
"It cost me $750 for a UCS (Uniform Communication Standard), which is used primarily by the grocery industry," said Wright. "It enables me to identify 100,000 products and service 100,000 locations. What's nice about it is that I own that bar code for life."
Market your product
Breaking into the supermarkets is one of the most difficult parts of marketing a new food product, said Wright.
"There's an animal called 'Shelf Real Estate,' which is the most expensive Real Estate in America," said Wright. "Most corporate stores charge a minimum of $10,000 for an 18-inch by 20-inch spot.
"They don't want to take a chance with your product. So if you can afford their price, then you're standing behind your product."
Wright is shrewdly following the example of fellow barbecue distributor Smoking Joe Jones of San Diego.
"I'm doing it all regionally," said Wright. "Sell your stuff to the ma and pa stores first. Then, when the public starts to demand it at their supermarkets, shelf real estate is out the door. You don't have to pay the fee anymore."
Wright said he is currently negotiating with Trader Joes Corporation, a gourmet⁄ health market with stores in Riverside, Redlands and other Southland locations. He's also working with health food chains because the sauce is all natural with no preservatives.
Hire a broker
"There are a lot of specialty buyers, or brokers, who buy for all the chain stores," said Wright. "Some broker's fees are 5 percent to 10 percent of your sales. They have to push your product to get their fee. Be careful on who you choose."
Now, Wright has several more products in the works, including a pepper medley, tri-tip rub and gift pack, featuring two different barbecue sauces, chili mix, beans, dry rubs and cowboy cookbook.
Wright warns never to marinate meat in pure barbecue sauce.
"Water it down with beer, wine or soda pop," he said. "If you apply the straight sauce before your meat is cooked, the sweet content of the sauce will caramelize."
He also encourages cooks to experiment with dry rubs.
"However, it's important to let your meat come to room temperature for at least 45 minutes before applying the dry rub and placing it on the grill," he said. "As the meat starts sweating and warming up, it draws in the flavor from your seasonings. If it's cold, the seasoning just sits on top and doesn't get absorbed by the meat."
Rodeo Daddy's Baby Back Ribs

1 rack baby back ribs
1 bottle 7-Up
Mustard
Marinate ribs in 7-Up overnight, turning occasionally. When ready to grill, remove ribs and rub generously with mustard. Season to taste and cook slowly over indirect heat in a smoker at 250 F for 31⁄2 hours.
Rodeo Daddy's BBQ Chicken

1 jar Rodeo Daddy's BBQ Sauce (any flavor)
1 jar Rodeo Daddy's Chicken and Fish Rub (or your own seasonings)
Assorted chicken pieces
Season chicken to taste with Rodeo Daddy's Chicken and Fish Rub (or your own seasonings). Cook at 275 F on a smoker with oak or citrus wood, or use wood chips. If you have an electric or gas barbecue, use wood chip packages.
Always cook over indirect heat for smoking.
Pour sauce into a saucepan and keep warm. Dip chicken pieces in the sauce just before eating.
Rodeo Daddy's Smoked Salmon

1 salmon fillet (skin on)
Pam cholesterol-free cooking spray
1 jar Rodeo Daddy's Chicken and Fish Rub (or your own seasonings)
1-2 fresh lemons
Spray salmon with Pam on both sides. Sprinkle lemon juice over both sides of fish. Coat fillet with generous amounts of chicken and fish rub.
Smoke fillet on a smoker at 250 F.
It's done when the skin shrinks, roughly about 15-20 minutes.
Serve with barbecue sauce if desired.
Reach Veronica Hill at 951-6228 or e-mail veronica@link.freedom.com