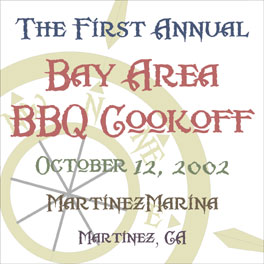 Bay Area BBQ Cook-off Results
Frank Boyer and Sweet Time BBQ win Grand Champion at the Bay Area BBQ Cook-off.
Posted October 17, 2002
By Jeff Jones, cbbqa member

MARTINEZ, CA — The American Royal took its toll on Frank Boyer. He was exhausted, to say the least. But somehow, he mustered the energy to show up at the Martinez Marina in the pre-dawn hours for the First Annual Bay Area BBQ Cookoff.
Good thing he did. By the end of the cook, Frank and his team, Sweet Time BBQ, had placed in the top 5 for all 4 categories, earning him the honor of Grand Champion. Complete rankings are listed below.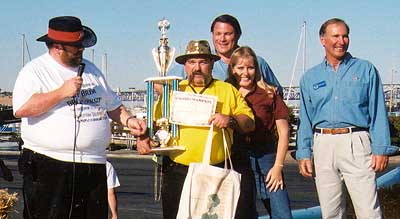 Jeff Jones, event organizer, presents awards to Sweet Time BBQ. Lead cook Frank Boyer is holding the loot. Behind Frank are team members the Lynn Smith and Michelle Ramos. Steve Burton, President, Martinez Chamber of Commerce, joins in the presentation..

Close behind Frank was Reserve Grand Champion, Meatheads, debuting in their first-ever competition. Meatheads, headed up by Henry Joe Peterson, scored a perfect 180 in ribs -- the only perfect score in the entire cook-off. Combined with several other top 5 finishes, Meatheads gathered enough points to secure the Reserve Grand Champion spot.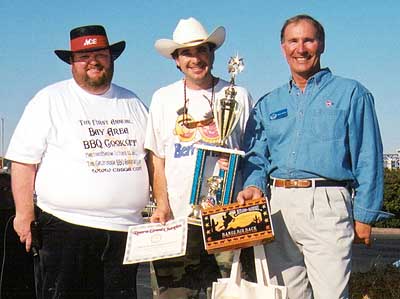 Jeff Jones and Steve Burton present awards to the Reserve Champs, Meatheads. Lead cook Henry Joe Peterson is the guy hiding under the big white hat.

Hot on the tail of the Meatheads was Rocket Man, who finished third overall. Rocket man is a one-man team consisting of only Rick Jones. Rick not only prepped and cooked everything himself, he often did it with one of his two year old twins in one arm. Rick took first place in 3 categories -- chicken, tri-tip, and anything but.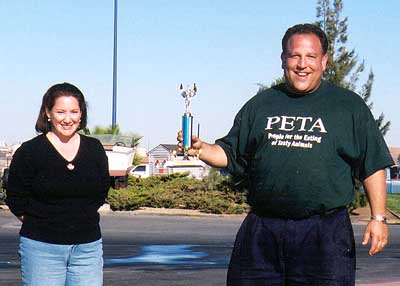 Sherry Luttrell of The Martinez Chamber of Commerce presents trophy to Third Place over-all winner Rick Jones of the barbecue team Rocket Man.

The day was a smashing success. The folks from the Martinez Boys and Girls Clubs, the City of Martinez Chamber of Commerce, and the Martinez Marina were thrilled with all the excitement, and are already planning a date for next year's event. For 2003, the Bay Area BBQ Cookoff will expand into a major event, including the brisket and pork-butt categories.
CBBQA would like to thank our generous sponsors for the event. Including New Books Cheap, Charcoal Companion, KC Masterpiece BBQ Sauce and Marinades, Lazzarri Charcoal, Arrowhead water, and Smokehouse Woods. The event would not have been the same without their generous support.
Team rankings by category
Anything But
Rocket Man
Smoke 'um if you got 'um
Meatheads
Big Moose BBQ
Sweet Time BBQ
Chicken
Rocket Man
Sweet Time BBQ
Aromatic Taste Bud
Meatheads
Martinez Yacht Club
Tri-tip
Rocket Man
Big Moose BBQ
Smokestack BBQ
Sweet Time BBQ
Smokin' Q
Pork Ribs
Meatheads
Sweet Time BBQ
Smokestack BBQ
Big Moose BBQ
Aromatic Taste Bud