On Thursday November 14, 2002 our friend Joe Davison passed away suddenly in his sleep. He was sixty-six years old.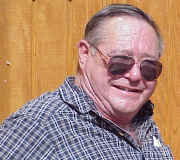 Joe was born in Mars, Pennsylvania on January 29, 1936.
In the early 60's he was a police officer for the Beverly Hills PD for a few
short years before working for, and becoming, the top sales manager for Roy Carver Rolls Royce in Newport Beach.
It was during those years that Joe found Follows Camp and it became his get-a-way from the rat race of Newport Beach. He would sneak away for a couple of days to unwind and pan for gold in the river. He became good friends with FloFlo Peck, the owner of Follows Camp. FloFlo was the widow of Sedley Peck, who inherited and ran Follows Camp from family members, Ralph and Jennie Follows. Sedley died many years before and Joe eventually bought Follows Camp from FloFlo.
For many years, Flo Flo lived on the property and helped cook in the restaurant. Eventually, Joe purchased Shady Oaks and several other private parcels of land that make up the 110 acres of Follows Camp today.
Joe and his partner of 19 years, Patricia Jones, lived part-time on the mountain and in their Glendora home. While Joe never had children of his own, he considered Craig and Terri Jones his "own" children. He leaves behind four grandchildren--Allison and Ian Jones of Glendora and Christian and Kylie Eagon of Chino Hills.
Joe was a fan of bluegrass music and brought bluegrass festivals to Follows Camp. In the late '90s, Joe also held Follows first barbecue contest. These barbecue contests became a yearly fixture at Follows Camp and introduced many new people to Joe and the Camp. Joe was master of ceremonies at the presentation of awards at the Southern California State Championship Barbecue Contest Joe sponsored just a few days before his death.
For many, Joe Davison was more than a friend, he was a life-saver. There are many present and past residents of Follows who will attest that it was Joe's big heart and generosity that made it possible for them to turn their lives around.
An article in the San Gabriel Tribune on Joe. Click here