COYOTE ROAD KILL (CRK Specialty "Q") takes 5th Place Overall at the Shake, Rattle, and Smoke California Championship BBQ Cook-Off
Saturday, May 11th, 2002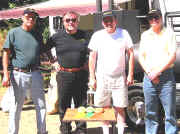 A Story of How this BBQ Event went, and How ALL BBQ Events Typically Unfold
This will be a document describing this event and also how the typical BBQ event unfolds. So, as it is read please keep in mind sometimes I digress to a generic description of all BBQ events and reference specifics of this one when applicable.
The Team Shows UP!
Coyote Road Kill (CRK Specialty "Q") shows up at Follows Camp, Azusa California, last Saturday for the Annual State Championship BBQ Cook-Off held at Follows Camp. The team members for this event were:
Gary Balbach, who over the last year has been attending BBQ events with CRK and finally joined with CRK for the first time during this event. Gary has great BBQ skills and experience and will be a great asset to the entire CRK family. He BBQ's primarily with WSM's, a Klose trailered Smoking Pit, and Weber Kettles.

Bill Wight, is the new Tritip "Sherriff in Town" this year. Bill is well known and sought after reference his skills with a magical tasting grilled / smoked Tritip. Bill also can pop a great Smoked Pork Shoulder Butt out of his Weber Kettle in 9 hours that is always an award winning product. Bill joined CRK for the first time during this event and is a welcome addition to the team. Bill is a specialists on the Weber 22inch Kettle.

Rick Streiff, founding team partner. Rick has attended the last 19 out of 20 events that CRK has attended over the last several years. His BBQ skills are too numerous to mention on all forms of BBQ pits and smokers.

Dan and Barbara Cannon, and the pups, founding members and Team Captain. Dan and Barbara attended their first Smoke, Rattle, and Smoke in June of 1998 and competed in 20 straight events in California and Arizona through July of 2001.
Setup & Preparation
Arrival day, Thursday, is usually a great day. Everybody rolls into the campsite and begins the enjoyable job of setting up the equipment. EZ-Ups, tables, sinks, shelves, and everything else it takes to make a kitchen in the rough. It usually takes about 2 1/2 hours to setup. Then everybody can sit around a camp fire or table, that evening and just relax anticipating the great event and workload that is about to begin. We do not typically BBQ anything that day, but instead just relax, chit-chat, and catch up on strategies and other items that need to be planned or discussed prior to the BBQ event. Friday morning (the day it all begins) starts out slow in that most teams don't arrive until after noon so we can relax, have a nice breakfast cooked out in the open air, and take our last relaxed breaths until the event is over, literally!
The Task Begins
The real work begins about 13:00 on Friday of a BBQ Cook-Off. One has to now ensure all equipment is functional, laid out, and prepared for the non-stop effort that is about to start.
The first item is to break out the 3 ten to thirteen pound Beef Briskets that will need to be trimmed, possibly marinated, and seasoned. Some people will season in advance, some later due to salt pulling moisture out of this piece of meat. I will cook my Briskets for 15 hours so I need every drop that I can get.
Next we will break out 4 - 8 Pork Shoulder Butts. These pieces of meat also cook in a smoking pit for 15 hours but need little preparation.
Then starts the Chickens. Usually 4 - 8 birds are trimmed, prepared, and marinated throughout the evening. Bird preparation is a bit of a pain, but not too bad. About as difficult as Brisket and Pork Ribs.
Next we will start on the Pork Ribs. Very little is done with them until the next morning when they will then be put on the Smoking Pit to smoke for 5 - 6 hours.
Finally Tritip preparation starts. This is the last item and is usually a fairly quick piece of meat to finish up. Depends upon how much of the fat cap one takes of. We usually do about 4 - 8 Tritips. They all don't have a "magic" taste so we have to ensure we get one that does.
Is it Over Yet!
Briskets and Butts go on during the later part of Friday evening. We have the WSM's (Weber Smokey Mountain) Smokers that can go for 6 - 8 hours unattended. This allows us to get a good nights sleep. The Pork Ribs have to go on early in the morning so we do have to get up early to get them on for their burn in the pit. It is at this time that I wonder WHY I have spent all this money and time on something that is so tiring and labor intensive. It usually takes until 8 or 9 in the morning for me to get past that part. Finally Chicken and Tritips go on last. We all are now running around ensuring that for all 5 categories of meats we have all our magic sauces, rubs, greens (for trays), and preparations ready for turn-ins, which start at 11:30 through 13:30, on every half-hour. What job that is. We have to pull, slice, prepare, and finally agree on 6 pieces of each meat category. This is determined to be the best-of-the-best, and put it in a presentation box that is turned in and blind-judged by 6 people.
Awards
Then comes the big moment. After turn-in we try and get everything washed, cleaned, and put away as much as possible. However, WE ARE BEAT! It is a tremendous effort and takes a lot of stamina to do everything from set-up at arrival, meat prepping, 15 hour cooking sessions, and 5 categories of meat preparations. This all ready to be presented within a 10 minute window in a perfect and award winning state. Usually about 16:00 Awards are presented. Teams are called out from 10th place up. One does hate to hear their name called out too soon, but that is better then never! Coyote Road Kill was lucky enough to receive the following during this event:
Could have been better, could have been worse. Now, we all wander back to our cook sites and look at ALL the gear that has to be cleaned, disassembled, and packed into the vehicles. One wonders how this could all be worth such a great effort. Soon we will get past that state of mind.
Post Awards Team Party
One of the greatest parts of the entire event is to get to see, mingle, and enjoy all the great social company of the other teams, our competitors. We are all like a big BBQ Family when the competition portion is over. We all help each other before, during and after the events. If it were not for this part I would not be doing this. After a an hour or so of relaxation everybody picks up some munchies, some beverages, and finds a central location, or fire it, to sit around and exchange stories and bragging rights. We will typically complain (all unfounded) about the bad judges, scoring errors, the mistakes the organizers made, the reasons why our BBQ did not take Grand Champion, the weather, the lack of room, the lack of facilitation, and a myriad of other subjects that make us all feel better in our lack of accomplishing the goal we were all there for. To take 1st in all categories and walk away with all the prize money. Oh well, at least that DOES happen at every Catering Job! We all sat around chilling out, relaxing, and talking till about midnight. Then the great efforts of the last 2 days catches up with us all and we all wonder to our individual cook-sites to finally get a good nights sleep.
The Worst Part Begins
The worst part by far is the clean-up on departure day, usually Sunday if we are lucky. Sometimes we are required to leave on the same night as the awards ceremony. That is VERY painful after the efforts and hard work we have all been through over the last 2 days. Fortunately those events are few and far between and we will, if given a choice, not attend for that very reason. We all got up about 08:00 Sunday, looked around a bit, and finally decided on some breakfast before we started the BIG job. There are at this time few teams left as a rule. The Rat Pack (Mike Guinaugh and Joe) were just starting to pack. When our fried potatoes, bacon, sausage, and eggs were ready the Rat Pack joined all the members of CRK to sit down for a few minutes of relaxation and socialization before packing and leaving. Rick and I have found that once you focus on the cook-site disassembly it always takes about the same amount of time to then have it all packed in the vehicles and be ready to go. That time is 3 1/2 hours. So, at a typical Cook-Off, where we have to get out early, we will be up at 07:00 a.m. and be on the road by 10:30 - 11:00. Then it can be up to a 6 - 7 hour trip home. I was the last to leave Follows Sunday and ended up pulling out at 3:30 p.m. Got home about 17:30. And as usual, swearing that this cannot possibly be worth the cost and effort, and vowing that this will be the last time. Well, we will see.
BUT, I must say in closing, and to answer the above statement that CRK is scheduled for the following events over the next year:
The World BBQ Championship & the Surf & Turf BBQ California State Championship. Both being held at Imperial Beach, July 4th weekend, two individual competitions being held over 4 days. Teams from all over the world will be attending and the competition should be very tough!

The West Coast BBQ California State Championship. Being held at Tres Pinos California (about 25 miles below Hollister, in the Northern part of California). July 12-13-14 at a very nice grassy and tree type location. There will be a Blue Grass Festival going on at the same time adjacent to the event, but we will be to busy to go visit but can listen as they broadcast the festival on the AM Radio.

The Go for the Gold California Championship BBQ Cook-Off. Being held August 3rd at Follows Camp, Azusa California. Very spacious and nice campsite close to a running river centrally located to anybody in Los Angeles.

The Southern California Championship BBQ Cook-Off. Being held September 21st at Follows Camp.
So, I guess that answers that question, we will be there next time.
Dan Cannon, Team Captain, BBQbyDan / Coyote Road Kill aka CRK Specialty "Q"