Menu / Flyer
Catering & Wedding Info
BBQbyDan Testimonials

Contact BBQbyDan
Sponsor BBQbyDan

www.BBQDan.com
www.BBQbyDan.com
www.BBQWhisperer.com

Home
Search

BBQ Events & Doings
BBQ Contests & Past Info
Recipes, Smoking Meats
Recipes, My Favorites
Military Charitable Events



BBQbyDan Web Index

BBQbyDan Seasonings
& Rubs - Purchased here

KCBS BBQ Cook-Off Info
Links, BBQ & Related

Recipes, Smoking Meats
Recipes (50,000+)
Recipes, Grilling



BBQbyDan Event
Web Site Index

---
---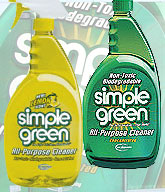 Simple Green Cleaning Products are used exclusively by
Team BBQbyDan

---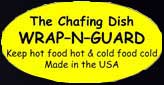 Collapsible Windproof Chafing Dishes, Wind Guards, Chafing Dish Skirts, Chafer Safety Barrier, Induction and Butane Cooker Guards.
www.wrapnguard.com
Email: info@wrapnguard.com
---


---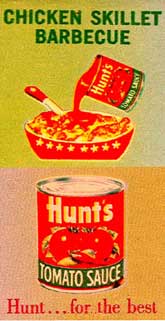 ---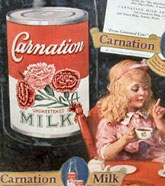 ---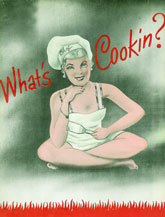 ---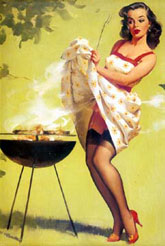 ---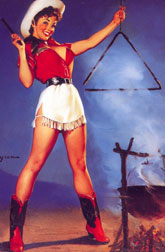 ---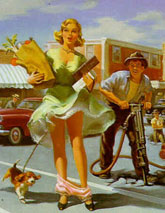 ---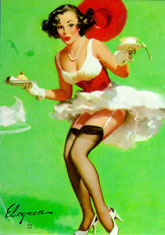 ---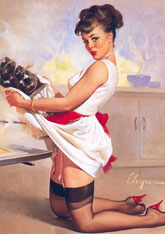 ---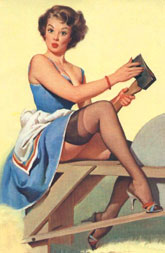 ---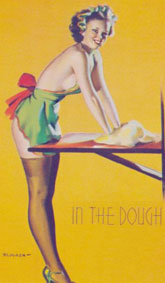 ---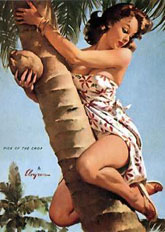 ---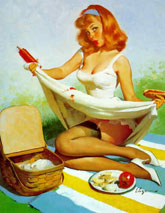 ---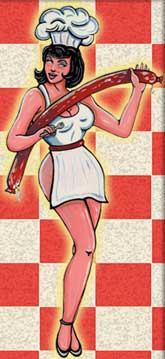 ---

Estonian Cookery?


by Carl F. Kaun

, 8/28/2002
One of the more interesting sideshows at the World Barbecue competition held on the July 4th weekend at Imperial Beach was the approach taken by one of the Estonian teams.

They had ordered four large, oak tree trunks to be delivered at the cooksite, indicating their intention to make their cookers out of these.

There was considerable interest in exactly how they were going to do that.

They showed up Thursday evening with some axes and chisels and other hand woodworking tools, and went at it.

Several hours later, with barely a good notch in that tough old oak, they were admitting that they had no idea how hard our wood was, and they were wondering how to proceed.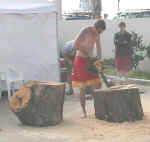 By the next morning, someone had rounded up a chain saw for them to use, and so they went at it again, as seen in the first picture. They still had a lot of hard work in store, and it took them several hours to finish working the wood, even with the chain saw. I don't know if they did approximately what they intended to, or if they had to improvise. They ended up in a couple of cases with hollowed out trunks, and in a couple of others they tied together pieces, as they are doing in the second picture. They had some metal inserts that they used in the hollowed-out pieces, but they also made liberal use of aluminum foil to chink cracks and the like. They had grates that fit into and on top of their works, and they made lids from aluminum foil and cardboard (in addition to using the top of my Homer Simpson kettle).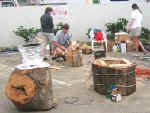 The third picture shows them up and ready to cook. They used pretty much straight charcoal for cooking. I looked inside the things after the cooking was over. There was charring of the wood along the sides, and it appeared that they used this charring as the source of smoke for flavoring. Verrry interesting!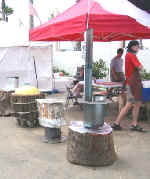 I should dispel the notion that this is how it's done in throughout Estonia. The final picture shows the setup used by the second Estonian team, which placed pretty high in the standings. The barbecue unit is obviously homemade, but to a pretty traditional (for us) design philosophy. That's my Homer Simpson kettle there, too. They gave to top to their countrymen, and kept the bottom part stoked up most of the time to grill and cook things in pots.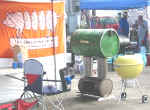 BBQbyDan®, BBQbyDan Inc.™, BBQDan™, BBQ Whisperer™, BBQ Bivouac™, CRK Specialty Q™, Coyote Road Kill™
BBQbyDan.com™, BBQDan.com™, BBQWhisperer.com™, CoyoteRoadKill.com™, BBQBivouac.com™
Registered Trademark (BBQbyDan® Class 030, 035, 043), Service Marks, & Trademarks, claimed 1998-2015 by BBQbyDan Inc.
Copyright© 1998-2015, BBQDan.com, BBQbyDan.com, BBQWhisperer.com, & CoyoteRoadKill.com websites
All rights reserved. No content can be used for commercial purposes without written consent.
Content used for educational purposes or media review must include appropriate source information.
Revised: 06 Jan 2015 12:33 .